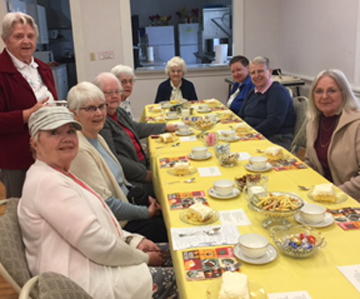 United Methodist Women (UMW)
Turning faith, hope and love into action on behalf of women, children and youth here and around the world.
This group of women work to support the church in its mission, raising money as well as supporting outside ministries. The UMW meets on the first Tuesday of each month from September through June. Meetings begin at 1:00 pm and refreshments are served, except for the June and December meetings when pot luck lunch is served at 12:00 pm. Many of the meetings include a special educational or spiritual program. Dues to join the UMW are $10.00 per year payable January 1st.
Upcoming Activities
Rummage Sale: October 26, 8:30am to 12:30pm. Clothing and household articles, including home canned goods and hand-crafted items. Bag sale at noon - fill a bag with what you want for $3.00.
Next meeting: November 5, 1:00pm.
Lord, make me an instrument of Your peace;
Where there is hatred, let me sow love;
Where there is injury, pardon;
Where there is doubt, faith;
Where there is despair, hope;
Where there is darkness, light;
And where there is sadness, joy.
O Divine Master,
Grant that I may not so much seek
To be consoled as to console;
To be understood, as to understand;
To be loved, as to love;
For it is in giving that we receive,
It is in pardoning that we are pardoned,
And it is in dying that we are born to Eternal Life.
Amen.